Settled status application: where to find online help during coronavirus lockdown
With the United Kingdom is in lockdown due to the coronavirus pandemic, all information events and face-to-face meetings to help EU citizens applying for settled status have been suspended. But some support services remain available online or on the phone.
Citizens from EU countries, Norway, Iceland, Liechtenstein and Switzerland have to apply for settled status by 30 June 2021 to secure their post-Brexit right to live and work in the UK. In most cases the application can be submitted via a phone app, but the process can be more complicated depending on personal circumstances. Here is where to find information and free online help to prepare the submission.
Official guidance
The UK government website provides guidance about the settled status scheme in European languages. But the EU Settlement Scheme Resolution Centre, a help-line for applicants, is currently closed.
The EU Delegation in the UK has suspended the info sessions on residence rights but immigration lawyers can answer questions via Facebook (check also the announcements on Twitter). General information about the settled status are provided here.
The Mayor of London website has an EU Londoners hub with information in multiple languages and a list of additional support services (about one out of 3.8 million EU nationals in the UK live in the capital).
Self-help guides
The AIRE Centre and law firm Herbert Smith Freehills have produced an online tool to check whether applicants are eligible for settled status. The AIRE Centre has also produced a settlement guide for young people and runs an advice line for vulnerable citizens.
Here for Good, a legal charity set up specifically to help people applying for settled status, has an online guide to help prepare applications, "Act now – to stay here for good." The organisation primarily assists vulnerable or at-risk citizens, including the homeless, elderly, people with complex needs such as physical disabilities or mental health issues, victims of domestic violence and trafficking, and citizens in financial hardship. Support is provided via phone or email.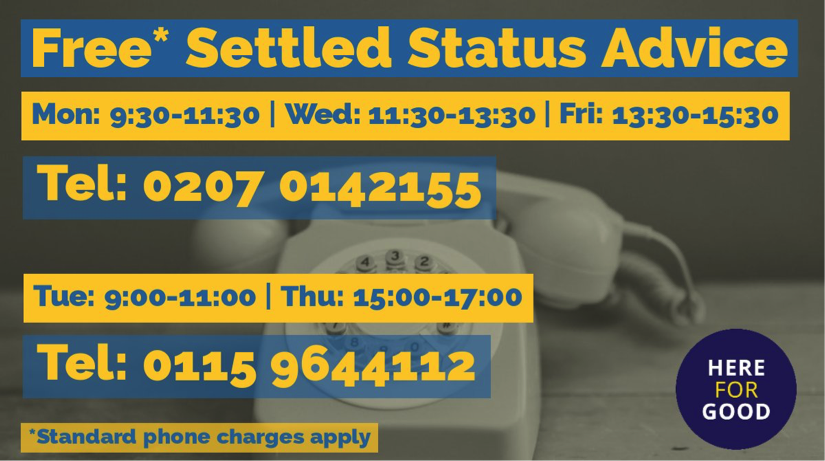 The Citizens' Right Project in Scotland has also published a brief guide to settled status.
Community organisations
Because of the coronavirus pandemic, East European Resource Centre has switched its support services on settled status and benefit applications from face-to-face meetings to phone calls and emails. Advice is available in English, Polish and Romanian.
Following the suspension of outreach events, Settled, the sister organisation of citizens' rights group the3million, still takes questions on the phone and via email.
UKCEN is an online forum where people can post questions about settled status and British citizenship applications anonymously and get a reply by qualified lawyers.
The Joint Council for the Welfare of Immigrants supports vulnerable individuals and families with free legal advice provided through a helpline that remains open during the coronavirus crisis.
The Legal and Social Advice Service (LESAS) at Latin American House offers assistance in immigration, benefits, family and employment law in English, Spanish and Portuguese.
The Child Law Advice operated by Coram Children's Legal Centre provides specialist support and information on child, family and education law to parents, carers and young people in England. Due to the coronavirus crisis, they ask to send information requests by email.
The Citizens' Rights Project organises weekly online information session on EU citizens' rights streaming the presentation and Q&A on their Facebook page. No registration needed. Questions can be sent via Facebook or email [email protected]. 
Local Citizen Advice services also respond to queries on the EU settled status via phone or email.
Contact details of Citizen Advice in Scotland are available here. For Northern Ireland support services can be found at this link and a list of organisations helping in Wales is available here.
People with complex situations may need the help of an immigration adviser. This is a regulated profession and the Office of the Immigration Services Commissioner (OISC) has a register of advisers who can provide such service, usually charging a fee. The Law Centres Network may be able to provide free legal advice to those in need and now operates online.
An EU hotline responds to general questions about residence rights in the European Union in all EU languages: 0080067891011.
Europe Street News © all rights reserved.
Image by StockSnap from Pixabay.
Europe Street News is an online magazine covering citizens' rights in Europe. We are fully independent and we are committed to providing factual, accurate and reliable information. We believe citizens' rights are at the core of democracy and information about these topics should be accessible to all. This is why our website and newsletter are available for free. Please consider making a contribution so we can continue and expand our coverage.