Locked out: the Brits in the EU who may not be able to return to the UK
By Kevin Brunton, British in Sweden
The approval of the agreement on the UK withdrawal from the EU has given us British citizens living in EU countries a sense of security. Many of our rights will be protected under the deal.
But not everything has been settled, as thousands will find out in just over two years time.
Our only 'mistake' was to fall in love with someone from another country. In my own case it was with a Swede who subsequently spent many years studying, working and contributing to the UK. Since 2016, it has been common for families like ours to hear statements like "they'll be fine, they're related to a Brit" or "I'm sure things will work themselves out".
Those statements could not be more wrong. Under immigration rules published in September 2019, British citizens who want to return to the UK with their EU families after 30 March 2022 will be subject to stringent UK immigration rules (the hostile environment policies introduced in 2012 by the then Home Secretary, Theresa May).
This is already the reality for thousands of British citizens with non-EU partners.
Meeting the Minimum Income Requirement
In addition to a Minimum Income Requirement (MIR) of £18,600, a non-EU spouse (and non-UK spouse in the future) is subject to a number of visa obligations and healthcare charges that account for approximately £7,000 over a five-year period if families decide to stay in the UK on a permanent basis. The figure can be even higher for some people who need to pay for English language tests and the certified translation of official documents.
Couples bringing children to the UK are subject to a higher MIR depending on the number of children they have. The MIR has been challenged through the courts, but it was upheld by the Court of Appeal in 2014.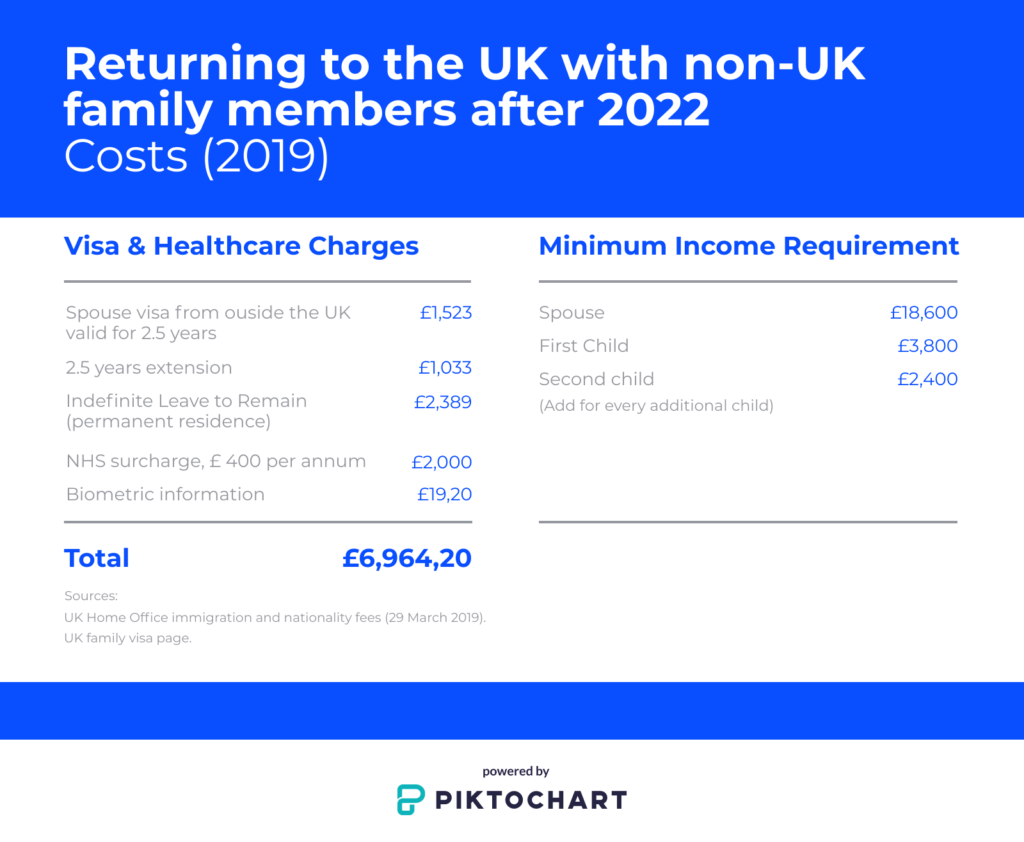 Applying for UK citizenship would add approximately £1,300 per person to these figures.
"Returning UK citizens with their non-British family members are not protected by the withdrawal agreement at all," says Jane Golding, a Brit living in Germany who co-chairs the British in Europe coalition. "The rights of returning citizens are not covered in the withdrawal agreement, whether for EU nationals in the UK or Britons in the EU".
"If I want to bring in my German (non UK) spouse to the UK after March 2022, I would have to show that I earn over the minimum income requirement. It doesn't matter what he earns currently. And we would need to show that that income would be earned in the UK, unless we can prove that we have a certain level of savings in the UK," Golding adds.
"The problems are three fold," she told Europe Street. "First, some people will not earn enough to reach the minimum threshold. Second, if you come back to care for an elderly relative, you are unlikely to meet the threshold as you may not be working or only part-time. Third, if you are self-employed, you will have trouble proving that you earn enough."
In Limbo, a project set up by Italian in the UK Elena Remigi to record the testimonies of EU and UK citizens affected by Brexit, is seeing an increasing number of posts describing such situations and concerns.
Many of these concerns relate to the ability to meet the MIR. This is hardly surprising as 2015 figures by the Migration Observatory at Oxford University showed that 41% of British nationals working as full-time or part-time employees did not earn enough to meet the £18,600 threshold.
Quoting Home Office immigration statistics in December 2018, the Migration Observatory reported that "since the income requirement was introduced in July 2012, just under 55,990 applications for entry visas to come to the UK as the partner of a citizen or settled person have been refused, equivalent to one quarter of all decisions on partner entry visas".
An enormous strain on relationships
Research and anecdotal evidence from families already affected by the rules suggest that this situation will place enormous strain on relationships, children's mental health and wellbeing, and the health and wellbeing of elderly parents who cannot be cared for by their family.
Three years after the MIR was introduced, a research project commissioned by the Children's Commissioner for England estimated that 15,000 children were being brought up in 'Skype families' because one parent did not meet the spousal visa requirements.
The 2015 study mentioned reports from those surveyed of "a number of emotional and behavioural problems for children who were living with parents who were separated inside and outside the UK."
The report said: "Many parents reported that their children had become clingy and dependent on one parent; children often suffered from separation anxiety and became socially withdrawn, and some described children having difficulty socialising and experiencing problems at school. Parents described how children displayed eating and sleeping problems; slow or poor language development, and can display anger and violence toward peers and family. Some children said that they feel guilty and blame themselves for the absence of a parent."
Jane Yilmaz set up the group Reunite Families UK, along with Caroline Coombs (de Alarcon), as a direct result of the ordeal that her own family was going through. Jane and daughter Ela were separated from her husband Altuğ by the same rules which will affect EU spouses after 29 March 2022.
Ela, now 9, experienced severe health difficulties following their move back to the UK, when she was aged 6. Jane describes a two-year period where Ela displayed selective mutism and severe anxiety leaving her at the point of collapse on occasions. She was registered with a child psychologist from CAMHS (Child and Adolescent Mental Health Services) during this period and the long-term impact on her health remains unclear.
Reunite Families UK are currently crowdfunding a book to distribute to all UK members of parliament.
Monique Hawkins of the3million group of EU nationals in the UK sums up the feelings of Brits in Europe who have already become aware of this issue: "I simply do not understand why the British government would treat its own citizens across the Channel in this way."
"As a Dutch citizen living in the UK, I have been reassured by the Dutch government's explicit statement that I have the right to return to the Netherlands in the future with my British (now non-EU) husband, without him having to be subjected to Dutch domestic immigration legislation. The EU Commission has confirmed to us that this is also the case with all other EU member states," she says. "Granting this right is entirely in the gift of the British government and is not related to any negotiations with the EU."
In comparison to the UK, the residence permit and spousal visa fees charged to third country nationals by many EU members are also relatively low at present.
David Milstead, a fellow member of the British in Sweden network, commented: "This is effectively a denial of a right to return. British citizens had legitimate expectations of being able to return to the UK with their families under EU rules, when their relationships started and life plans were made. Fixing this problem is in the gift the British government and it should do so. It might go some way to restoring their reputation in the eyes of British citizens in the EU who already feel badly let down by the provisions negotiated for them in the withdrawal agreement."
With the UK government having shown little appetite for protecting our rights combined with the Home Secretary's statements on freedom of movement, it remains to be seen whether the EU can be convinced to raise this issue in upcoming negotiations.
Kevin Brunton © all rights reserved.
Kevin Brunton is a member of the British in Sweden network which aims to protect citizens rights as the UK withdraws from the EU.
Image by Gerd Altmann from Pixabay.
Europe Street News is an online magazine covering citizens' rights in Europe. We are fully independent and we are committed to providing factual, accurate and reliable information. We believe citizens' rights are at the core of democracy and information about these topics should be accessible to all. This is why our website and newsletter are available for free. Please consider making a contribution so we can continue and expand our coverage.