Majority in EU support full voting rights for other EU citizens
More than six in ten participants in a recent survey across the countries of the European Union agree that EU nationals living in another EU member state should have the right to vote in national elections and referendums.
In total 63% of respondents support the idea, with a majority in 23 out of the 27 EU countries. The proportion is especially high in Ireland, where 77% are in favour, Spain (75%) and Portugal (74%). Only in Sweden, Denmark, Estonia and the Netherlands, 50% or more are against.
Six in ten respondents also agree that EU citizens living in another EU country should vote in regional elections.
The responses were part of the Eurobarometer survey on EU citizenship and democracy carried out for the European Commission in February and March.
EU nationals living in another EU state benefit from electoral rights deriving from EU citizenship, but these are limited to local elections.
The survey now shows that the majority of respondents consider justified expending such right to regional and national elections.
42% think that EU citizens moving across EU borders should have full voting rights only in the country of residence, 34% believe they should vote only in the country of origin, and more than one in ten respondents in 14 EU states said they should have the right to vote in both the country of residence and in that of origin. The latter view is most widespread in Cyprus (18%), Spain (17%) and Italy (16%).
The younger the respondents, the higher is the level of support for full voting rights for other EU citizens. 71% of those aged between 15 and 24 are in favour, while the share was only 58% for respondents aged 55 and above.
Women are also more likely than men to be in favour of full voting rights for other EU nationals (65% versus 61%).
In March, the European Commission registered a European Citizen Initiative aiming to remove obstacles to voting and standing in elections across borders. The initiative "Voters without borders" will be formally launched on September 1st. Organisers will then have one year to collect one million signatures to call for legislation so that that EU citizens are automatically registered as voters wherever they reside in the EU.
Because of Brexit, EU nationals living in the UK could lose the right to vote and stand as candidates in local elections. Britons living in the EU will maintain this right only in the countries that allow political participation at local level regardless of the nationality.
However, the UK government is negotiating bilateral agreements with EU states to maintain the right to vote. So far agreements have been signed with Poland, Spain, Portugal and Luxembourg.
EU citizens' rights group the3million and Another Europe is Possible are calling on the British government to allow all UK residents, regardless of their nationality, to vote in national elections.
Strong approval for free movement
EU citizenship also grants the right to move freely to other countries of the European Union subject to certain conditions (e.g. having a job or sufficient resources), the right to vote and stand as candidates in European Parliament elections, the right to make a complaint to EU institutions, and the right to consular protection in non-EU countries. In addition, EU citizens who move to other EU states cannot be discriminated on the grounds of nationality.
When asked about free movement of people within the European Union, 84% of respondents said it brings benefits to the economy of their country, a 13% increase since 2015. Positive views are prevalent in Ireland, Poland (both 90%), Luxembourg, Portugal and Slovenia (all 89%), while France (74%), Latvia (76%) and Bulgaria (78%) are the least supportive.
Respondents aged 18-24 are more likely (88%) than older citizens to see free movement positively.
Participants in the survey were especially aware about the right to make a complaint to the EU institutions (89%), the right to reside in another EU country (85%), and the right to non-discrimination (81%).
However, the majority (61%) said they do not know what to do if their rights are violated. The most likely to feel informed were Poles (59%), Irish (57%) and Romanians (48%), while the lowest proportion is in France (24%), Sweden (27%) and the Netherlands (29%).
A survey carried out last year by Europe Street News on citizens affected by Brexit similarly showed that 70% did not know how to defend their rights.
EU Commission Vice-President for Values and Transparency, Věra Jourová, said she was "happy" that "more and more Europeans are aware of their EU citizenship rights". But she added that citizens also need to know how to protect them so "they can fully benefit from what Europe has to offer".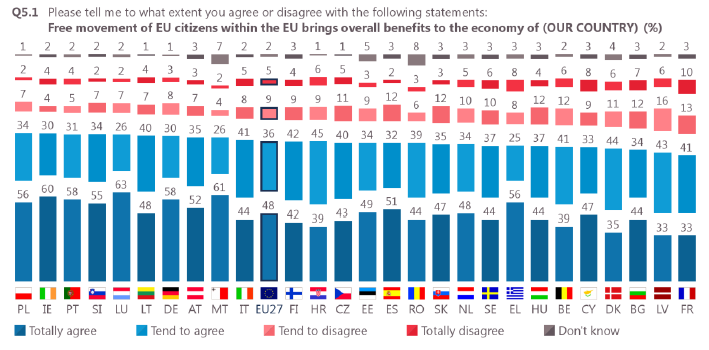 Public consultation on citizenship
The results of the survey were published as the European Commission launched a public consultation to collect views on how the rights deriving from EU citizenship are applied in practice.
In consideration of the pandemic, the consultation also includes questions on the impact of Covid-19 measures on EU rights. Anyone with an interest can share their views by 1 October 2020.
Claudia Delpero © all rights reserved.
Photo by Giorgio Benvenuti © European Union, 2017.
Europe Street News is an online magazine covering citizens' rights in Europe. We are fully independent and we are committed to providing factual, accurate and reliable information. We believe citizens' rights are at the core of democracy and information about these topics should be accessible to all. This is why our website and newsletter are available for free. Please consider making a contribution so we can continue and expand our coverage.