Moving across EU still difficult for social security, family rights
The management of social security contributions across countries and the residence rights of family members are the areas in which EU citizens who move across the EU find more difficulties, a new report has shown.
The analysis was published by European Citizen Action Service (ECAS), a Brussels-based organisation promoting the rights of EU citizens. ECAS runs on behalf of the European Commission Your Europe Advice (YEA), a legal advisory service for EU citizens and business, and has recently published the data about the enquiries received in 2019.
The data provides "valuable insight into the challenges EU citizens experience when exercising their freedom of movement rights," ECAS says.
In total, the 59 YEA legal experts replied to 28,034 requests last year, a 46% increase compared to 2018. One quarter of the enquiries was related to the UK and Germany, although those from British citizens decreased compared to previous year.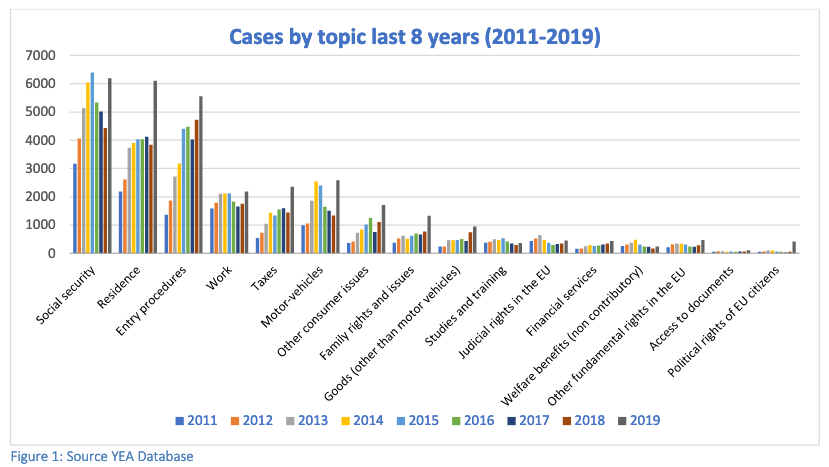 Questions regarding social security were the most common. 2,505 requests concerned the general management of contributions and the country of insurance, while 1,909 were about access to healthcare, sickness or maternity leave in another EU state.
Under EU rules, citizens who move across EU borders are covered by the social security legislation of one country at a time (the one in which they work or pursue an economic activity). However, in some cases it is difficult to determine which country is competent because of complex national measures, lack of information and insufficient coordination.
The situation is especially complicated for people who work in two countries, who live in one country and work in another, or retire in a different country, according to the report. For example, a French osteopath practicing in both France and Italy but with a "prominent presence" in France was asked to contribute in both places.
"Some Member States refuse to accept responsibility and declare that they are not competent even when they are. Others declare themselves competent when they are not," the report notes. As a result, many EU citizens "continue to experience problems in maintaining social security coverage when they move from one country to another," the paper concludes.
Several enquiries also showed difficulties in accessing healthcare and receiving sickness or maternity benefits. Often this was related to problems in recognising the European Health Insurance Card (EHIC) or in obtaining the S1 form (a certificate to access healthcare in the EEA).
For example, a hospital in Portugal refused the EHIC issued by a German insurance provider for a German citizen on holiday. And several countries (Sweden, Bulgaria, Denmark, France, Romania, Germany and the UK) recognise only the S1 form as proof of healthcare cover when economically inactive EU citizens register as residents.
As regards residence rights, most of the enquiries (3,285) were about the legal position of family members of EU citizens. These questions usually concern family members who are from non-EU countries or are economically dependent on the person exercising free movement rights. This group includes siblings and other household members, as well as unmarried or unregistered partners in a "durable relationship", who have equal rights to free movement if they are dependents of an EU citizen.
The report notes "a general lack of information" and "bureaucratic impediments" that hinder the recognition of such rights. A US citizen married to a Spanish and living in Germany for more than five years, for instance, requested the renewal of his residence card but the German authorities refused it without justifications.
The lack of a common definition of "durable relationship" can be a problem. In addition, some countries place restrictions on the return of their nationals with family members after exercising free movement rights.
Several enquiries also concerned the right to enter another EU country: 2,127 were about visas for non-EU family members of EU citizens and 1,674 other travel documents.
Under EU directives, family members of EU citizens should obtain visas for short or long-term stays free of charge and through an accelerated procedure that requires only a proof of the family link. The enquiries received by YEA, however, show that non-EU family members of EU citizens are often asked to fulfill extra requirements (e.g. proof of accommodation, sufficient resources or invitation letters).
In many cases, this is due to poor knowledge of the rules and to the outsourcing of consular services to external providers that ignore how the system is supposed to work.
Adding to all this, several enquiries last year revealed frustration at the lack of clarity about the impacts of the UK's withdrawal from the EU. Many EU citizens working in the UK asked which country would be competent for their social security post-Brexit. Britons in Europe were also in the dark about their future rights. Several in France reported the refusal of prefectures to issue residence documents, which are needed to access family or disability benefits or to open bank accounts (EU citizens are not requested to register in France, but they can apply for a residence document if they wish).
Many British and EU citizens also wanted to know the conditions for travelling between the UK and the EU after Brexit.
YEA also received more enquiries than usual on consumer rights.
Based on the enquiries, ECAS has made recommendations on how to improve the enforcement of EU free movement rules. The organisation suggests EU countries to agree a common definition of "durable relationship", to recognize the European Health Insurance Card as evidence of comprehensive health care cover, to establish a "supervisory body to oversee the work of visa service providers" putting in place "efficient system of complaints against refusals to issue visas".
Administrative cooperation on social security should improve too, with training for national authorities on rules that apply to EU citizens who move across countries.
Claudia Delpero © all rights reserved.
Image by Ylva Säfvelin from Pixabay.