Visa, income requirements, healthcare fees: new rules for EU citizens moving to the UK from 2021
EU citizens who move to the UK from next year will have to apply for a visa, pay hefty healthcare fees and pass criminality checks, under the new immigration system.
As the Brexit transition ends and EU's free movement rules cease to apply in the UK from January 1st 2021, the British government is adopting a new immigration system that takes away the automatic right for EU citizens to live and work in the country. It will also remove the right to access healthcare and social welfare benefits on equal terms with British nationals, and put a question mark on social security coordination with EU countries in the future.
In essence, conditions required from non-EU nationals will be extended to EU citizens, the government has said.
The proposal is still being discussed in parliament, but given the large government majority, it is unlikely to change.
New rules will apply to citizens from the European Economic Area (the European Union plus Norway, Iceland and Liechtenstein) and Switzerland, but not from Ireland, which benefit from different arrangements.
Also, it will not concern citizens of EU, EEA countries and Switzerland already living in the UK and protected under the agreement on the UK withdrawal from the EU. For them, current arrangements continue to apply, if they get "settled status" and do not leave the UK for more than 5 continuous years.
These are the key elements of the new system.
Getting enough points
Everyone who moves to the UK from January 1st 2021 will need a visa. In most cases to obtain it, applicants will need to prove they have a job offer from a sponsor approved by the Home Office that guarantees a certain income level, and they can speak English.
Meeting the requirements earns a number of points. The total to qualify for a work visa is 70 points. Some requirements can be traded with others, as long as the total remains at least 70.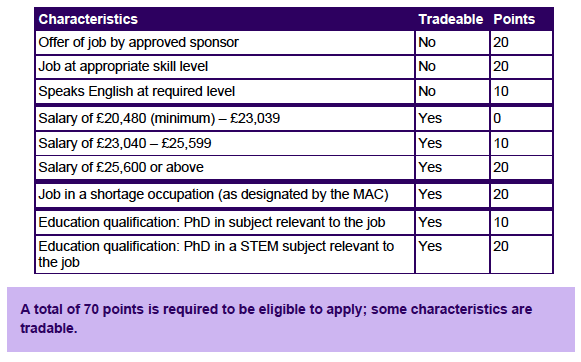 Types of visa
There will be different types of visa depending on the type of job the applicant intends to carry out.
The skilled worker visa requires a confirmed job offer from a licensed sponsor with a salary of the higher between £25,600 and the "going rate". The "going rate" is defined based on data by the Office for National Statistics and is, for example, £67,300 for CEOs and chief medical officers, £54,900 for marketing directors and £29,700 for biomedical scientists. The threshold can be reduced through tradeable points if the job is in a sector that suffers from labour shortages, if the candidate has a PhD or is a new entrant in the job market, but it can never be below £20,480.
Within skilled workers', there are special visas for health and care professionals. These will be subject to reduced fees and exempted from the healthcare surcharge.
However, the Royal College of Nursing has warned that many health and social care workers, including cleaners and support staff, will not be eligible because of their salary level and qualifications.
The global talent visa will allow professionals in science, humanities, engineering, the arts and digital technology to move to the UK without a job offer, if they are endorsed by a relevant body (e.g. the Royal Society for science and medicine, the British Academy for humanities or Tech Nation for digital technology). Candidates will be exempt from the English-knowledge requirement, they will be able to work as employees or self-employed, and to change jobs without informing the Home Office.
The start-up and innovator visa will apply to individuals who are setting up a business for the first time ("start up") or have at least £50,000 funding for their company ("innovator"). Candidates will have to be endorsed by a higher education institution or a business organisation that will assess whether the business idea is "innovative, viable and scalable" to justify the visa.
The intra-company transfer visa will serve for the temporary move of personnel and graduate trainees of multinational companies. To qualify, staff must have been with the sending business for at least 12 months, or 3 months for trainees. Applicants will not be subject to the English language requirement but they will have to earn at least £41,500.
Students will also need a visa. To apply, they will have to prove they have an offer from an approved education institution, they speak English and are able to support themselves during the studies. Students are allowed to work, but cannot be self-employed or engage in business activity.
From summer 2021, international students who have completed their entire degree in the UK will be able to work, or look for work, at any skill level for up to 2 years after their studies, or 3 years if they have a PhD. For this graduate visa, they won't need a sponsor and won't face maintenance requirements.
Study is also permitted in the UK for up to six months as standard visitors or through the 6 to 11-month short-term English language study visa, which does not require sponsorship, but does not allow to work.
Sportspeople, artists, entertainers and musicians will have to be endorsed by specialist bodies and won't be required to speak English if they intend to stay in the UK for less than 12 months. Those seeking to stay for a longer period or to settle in the UK permanently, however, will have to meet the language requirement.
Professionals in the creative industries will also have the option to arrive in the UK as visitors, perform and be paid for their participation in events for up to three months.
Individuals who want to enter the UK to undertake unpaid voluntary work for a registered UK charity also need a visa and can stay for up to 12-months.
In addition, there are special visas for Ministers of Religion (long-term visa) and Religious Workers (short-term visa), for individuals providing a service covered by international law (e.g. employees of overseas governments and international organisations), and domestic workers in private households (e.g. nannies or carers) for up to six months.
Government Authorised Exchanges allow temporary stays for training and work experience, but cannot be used by companies to fill vacancies.
The UK Ancestry visa allows Commonwealth citizens (including Maltese and Cypriots) with a UK-born grandparent to move to the UK for five years to do any kind of work at any skill level. After five years, individuals can apply to settle permanently in the UK, in which case they will have to meet the English language requirement and pass the "Life in the UK" test.
The pilot scheme for seasonal workers in agriculture will be reviewed at the end of the year to determine if and how it will continue.
Fees
Applicants for a UK visa will have to pay a fee, which depends on the type and length of stay in the country. For a visa of up to three years requested from overseas, creatives will have to pay £244, students £348, start-up entrepreneurs £363, skilled workers £610 and innovators £1,021. The UK ancestry visa costs £516.
These fees will be higher if the application is made when the individual is already in the country or if the visa covers a period longer than three years.
In addition, all applicants will have to pay upfront an immigration health surcharge to access to the National Health Service (NHS) on terms similar to British citizens. The only exemption applies to holders of the health and care visa. The immigration health surcharge currently amounts to £400 per year and will increase to £624 from October 2020.
Immigration barrister Simon Cox told Europe Street this tax might be challenged by EU citizens under the European Social Charter, an international treaty within the Council of Europe (not related to the EU) that guarantees the same social and economic rights for citizens of the countries that signed up to it. These include the UK and EU countries.
UK employers also have to pay a fee for employing foreign staff through the skilled worker and intra-company transfer routes. The immigration skills charge amounts to £1,000 per worker for 12 months, with discounted rates of £364 per year for charities and small and medium-sized enterprises.
Social security and benefits
Typically, visas do not allow their holders to access housing, employment or welfare benefits, nor child tax credit or carer allowances (the clause of "no recourse to public funds").
Negotiations are still ongoing with the European Union on the continuation of state pension coordination, so that years of work in the UK can be recognised in other EU countries and vice versa.
Settling in the UK
Depending on the type of visa, EU nationals may have the possibility to settle permanently in the UK.
The right to permanent settlement – or "indefinite leave to remain" (ILR) – is acquired after 5 continuous years of residence. It allows to stay in the country without time limits, to study, to work in any business, and to access public funds. It also exempts holders from the healthcare surcharge.
Start-up entrepreneurs, students, graduates and intra-company transferees do no qualify for permanent settlement. They can however switch to a different visa in country, and start the qualifying period for ILR.
Family members
Most visas will allow holders to bring dependent family members to the UK. But they will also be subject to visa fees and the healthcare surcharge.
EU nationals who are married to a British citizen or have a family connection in the UK do not automatically qualify for a visa. Instead, the British spouse or "sponsor" will have to meet the minimum income requirement of £18,600.
Reunite Families UK, a voluntary group that has been fighting this rule initially imposed on non-EU citizens, says the figure puts a price tag on family reunifications. "The minimum income requirement is also far higher than the minimum wage and is set at a salary level that 40% of people in the UK do not earn", Jane Yilmaz of Reunite Families told Europe Street.
Reunite Families UK, with immigration professionals and citizens' rights organisations such as British in Europe and the3million, have written an open letter to UK Prime Minister Boris Johnson asking to remove this requirement, so that "families can stay together, no matter what".
"It is wrong that any family face this and it is also wrong that our families should soon be subjected to this same law," British in Europe said.
Criminality checks
The new policy stresses that EU, EEA and Swiss nationals can be refused entry to the UK if they have been convicted to a sentence of at least 12 months in prison or if they have committed an offence that "caused serious harm". Those receiving such sentences in the UK "must be considered for deportation," the policy says.
The UK government will also consider deporting individuals with a sentence of less than 12 months if it is "conducive to the public good" (e.g. if criminality is persistent). Under current EU rules, such decisions can only be made on "serious grounds of public policy or public security".
New deportation rules will also apply to EU citizens who are protected by the withdrawal agreement for crimes committed after 31 December 2020.
Business and tourism
Business visitors, academics and tourists will be able to travel to the UK for up to six months without visa requirements.
But during 2021, EU citizens will have to start using a passport instead of an identity card to enter the country, according to the new policy.
The UK will continue to recognise ID cards at least until 2026 only for EU citizens and their EU family members who are both resident in the UK before the end of the transition period and have acquired "settled status", the document says.
By 2025, a "permission to travel" will be introduced requiring everyone (except Irish citizens) to seek a permit to enter the country before arrival.
The full government document explaining the details is available here.
Claudia Delpero © all rights reserved.
Image by TheOtherKev from Pixabay.
Europe Street News is an online magazine covering citizens' rights in Europe. We are fully independent and we are committed to providing factual, accurate and reliable information. We believe citizens' rights are at the core of democracy and information about these topics should be accessible to all. This is why our website and newsletter are available for free. Please consider making a contribution so we can continue and expand our coverage.