New UK immigration system: everything changes for EU nationals
The British government plans to introduce a new immigration system from January 1st 2021, when free movement with the European Union is bound to end.
The new points-based system will replace current EU rules and align other non-EU work visas. "We intend to create a high wage, high-skill, high productivity economy… We will reduce overall levels of migration and give top priority to those with the highest skills and the greatest talents: scientists, engineers, academics and other highly-skilled workers," says the introduction of the policy paper prepared ahead of a new immigration bill. "We will not introduce a general low-skilled or temporary work route," the government added.
How the system will work
Under the new system, a person intending to move for work to the UK will have to speak English and have a job offer from a sponsor approved by the Home Office. The job offer will have to be "at the required skill level" and provide an annual salary of at least £25,600 (lower than the £30,000 currently required from non-EU nationals), or the higher 'going rate' for the type of occupation.
If the job is in a sector that suffers from labour shortages, or if the candidate has a relevant PhD or is a new entrant in the job market, the salary can be lower, but never below £20,480.
Each requirement earns a number of points. The total to qualify for a work visa is 70 points. Some requirements can be 'traded' with others, as long as the total number of points remains at least 70.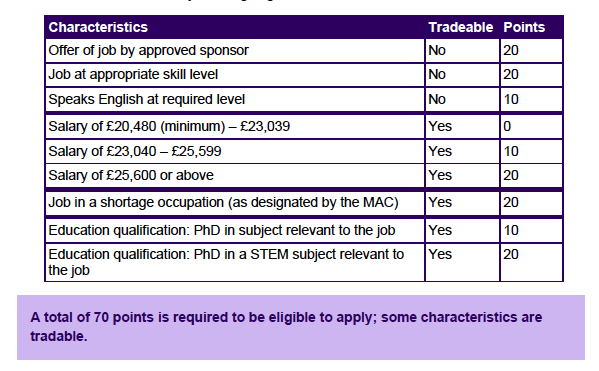 Other routes for a UK work visa that currently apply to non-EU nationals will be extended to EU citizens, and new ones will be created over time. These include:
The Global Talent visa, which allows "the most highly skilled" to move to the UK without a job offer if they are endorsed by a relevant body
The pilot scheme for seasonal workers in agriculture
Specialist routes that allow temporary access for e.g. sportspeople and artists, entertainers and musicians (the current 'Tier 5')
World Trade Organization rules for temporary service suppliers
A capped unsponsored route for "highly-skilled workers" that will allow entry without a job offer, to be opened at a later stage.
Students will be covered by the points-based system too. They will have to prove that they have an offer from an approved educational institution, they speak English and are able to support themselves during the studies.
Compared to the current non-EU system, the cap on the number of "skilled workers" will be suspended and the labour market test (whereby employers can recruit people from other countries only if their search in the national workforce was unsuccessful) will be removed.
EU nationals who already live in the UK have to apply for settled status, which guarantees they can continue to benefit of existing rights on employment, free access to healthcare, and social benefits. Nothing will change for Irish citizens.
Tourism and business travel also affected
The new system will also affect temporary travel to the UK for tourism or business. EU citizens can still visit the UK for 6 months without a visa. But they will have to leave the country before applying for another visa. In the longer term, identity cards will no longer be accepted.
Difference with EU's free movement
The new system is radically different from EU's free movement rules. Next to the visa requirement, the most glaring change is the removal of the equal treatment principle for EU nationals moving to the UK in the future.
Under EU's free movement rules, any citizen of EU member states plus Liechtenstein, Iceland, Norway and Switzerland can move freely to another country of the bloc to work, study or set up business under the same conditions of that country's nationals. In the UK this includes having free access to healthcare, for instance.
In the future, EU nationals moving to the UK will be required to apply for a work visa (for which they will have to pay a fee) and pay for healthcare (the immigration health surcharge). In addition, they will be able to access social benefits only after being granted "indefinite leave to remain", a permanent residence status available after five years of work in the country.
There are also concerns that the new system will especially mean fewer rights for people in the lower paid positions.
Simon Cox, immigration barrister with Doughty Street Chambers in London, told Europe Street some of these barriers could be challenged under the European Social Charter. This is an international treaty under the Council of Europe (which is not an EU institution) that guarantees social and economic rights for citizens of the countries that signed up to it, including non-discrimination on employment, health, and social security. All EU countries and the UK have signed the Charter.
"Citizens of countries that signed up to the European Social Charter cannot be denied social benefits if they are lawfully resident. They are also entitled to equal treatment, so there may be issues regarding the payment of the immigration health surcharge," Mr Cox said.
As regards EU transnational rights, such as the coordination of social security and the aggregation of state pensions, the policy paper does not provide any details.
Part of these arrangements may be covered by bilateral agreements signed by the UK and some European countries before joining the EU. In its position on trade negotiations with the EU, the British government also said it will seek to continue social security coordination.
"A big experiment"
Commenting on the policy paper, Simon Cox said the new immigration system was "a clear statement that the British government intends to position the UK along with the USA, Canada, Australia or Singapore" when it comes to immigration. "The model is that migrants are factors of production and they are only needed when an employer says they are," Mr Cox said.
The government estimates that around 70% of European citizens who have moved to the UK since 2004 would not be eligible under the new system.
So what's the appeal for EU nationals who plan to move to the UK in the future? "The appeal could be money, as wages might increase," Mr Cox said. "But the system will be much less attractive than now. There will be no chances to leave a job for another, to get unemployment or social security benefits for a while if you get sick, to bring family without paying a fee, nor to bring parents. It is not known whether social security will be coordinated with other countries and the environment will be more hostile. We will see where the UK stands in terms of appeal in comparison to the US or Canada."
Historically, the new system also marks a major shift for the country. "Both symbolically and in practice, the paper signals a turning away from the EU and is the most restrictive in terms of international relations," Mr Cox added.
"The UK has always been open to labour from abroad. Up until 1973 [when the UK joined the EU], there was mostly free movement with countries that were colonies. With this new system, we are not going back to 1973 but to 1600, before England had any colonies, and we don't know what it means for the economy and culture. It's a big experiment," Mr Cox said.
Claudia Delpero © all rights reserved.
Image by Free-Photos from Pixabay.
Europe Street News is an online magazine covering citizens' rights in Europe. We are fully independent and we are committed to providing factual, accurate and reliable information. We believe citizens' rights are at the core of democracy and information about these topics should be accessible to all. This is why our website and newsletter are available for free. Please consider making a contribution so we can continue and expand our coverage.