Meet the man living in France who is challenging Boris Johnson in his constituency
It is unusual to hear candidates standing for election asking not to vote for them. But that's what William Tobin says. "Don't vote Tobin, let Tobin vote" is the slogan printed on his campaign posters and flyers. 
A British resident in France, Tobin is running for election in Uxbridge and South Ruislip (North-West London), the constituency of Prime Minister Boris Johnson. 
The decision to run in Uxbridge is not accidental. Standing next to the Prime Minister, Tobin wants to get maximum publicity for "the seven million people who cannot vote."
"There is a large part of the UK population who is very intimately affected by Brexit but has no say in our future," he told Europe Street. "This group includes 3 million Brits living overseas barred from voting because they have been abroad for more than 15 years, 2.5 million foreign nationals living in Britain not from Commonwealth countries or Ireland, and 1.5 million 16 and 17 years old who cannot vote in many British jurisdictions, although fellow citizens in the same age group can vote in Scotland, Wales, the Channel Islands and the Isle of Man."
Feeling like a suffragette
Last year, when the UK celebrated 100 years since women obtained the right to vote, Tobin said he had "bittersweet" feelings because many people are still denied that right today.
He is among them, as he has lived overseas for more than 15 years. "I feel like a suffragette. That's why I have chosen the suffragette colours – purple, white and green – for my campaign," he says. 
Tobin was also inspired by another Briton in France, James Jackson, who stood for election in 2015 to raise awareness about the voting rights of Brits abroad. "I have been mulling over the idea for about a year. Then, encouraged by some friends and discouraged by others, I came to the conclusion that if I didn't do it, I'd regret it for the rest of my life," he adds.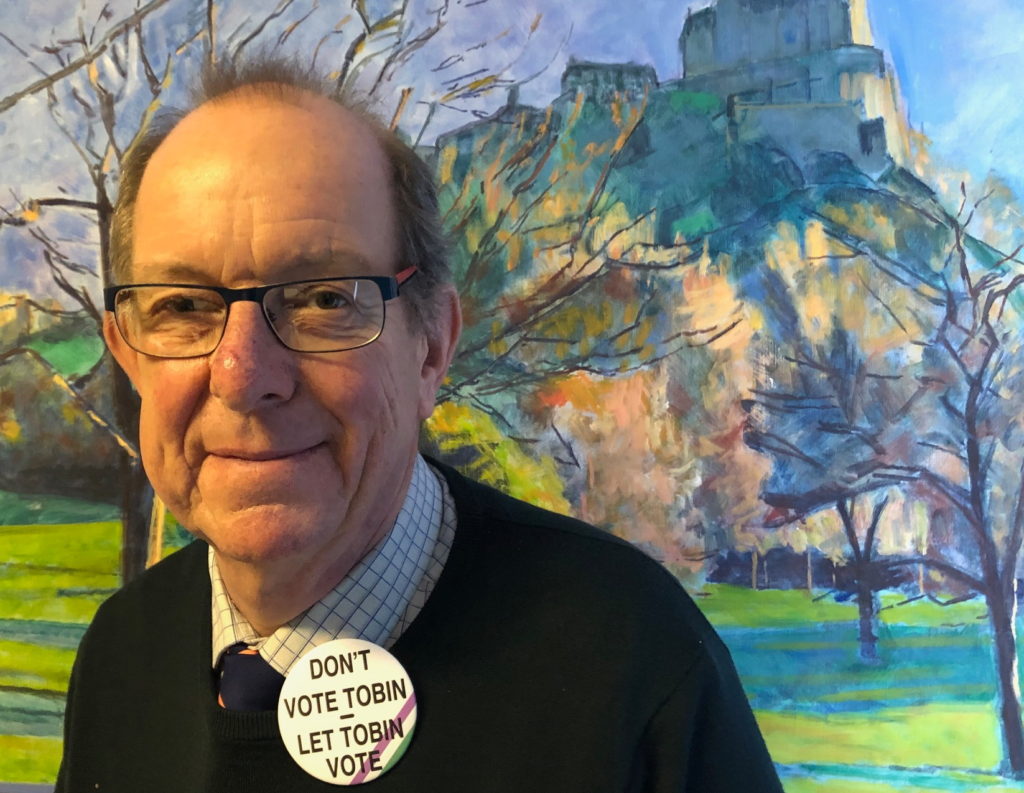 Starting the campaign
The first things to do to stand as a candidate were finding a proposer, a seconder and having an address in the constituency. These first steps were resolved through friends and family connections. 
Next, Tobin had to obtain 8 signatures from "assenters" who are registered to vote in the constituency. He went out knocking doors and talking to people. "It wasn't as difficult as I thought. It took five hours to get the signatures and only one person among those I asked refused to sign," he says. "It was very interesting to chat to people. Quite a number did not want to talk, many were not committal, many had experience working all over the EU. One was a bit aggressive, but nobody punched me on the nose," he jokingly says.
Once accepted as a candidate, the actual campaign started with the opening of a website and a Twitter account appropriately named @Dont_Vote_Tobin. 
The following step will be the mailing a flyer to the 47,700 households of Uxbridge and South Ruislip. Not a huge campaign budget overall, but Tobin aims to crowdfund 2,000GBP to cover the obligatory deposit, the printing of flyers and some trips to the constituency to knock more doors. 
A reform of the electoral law
With his campaign, William Tobin wants to highlight the contradictions of the electoral law, starting from the fact that he cannot vote but he can stand as a candidate.
"If you trust the electorate to choose someone who is good for the role, anybody should be able to stand. The problem is that the other side, the voters, is restricted because many are excluded," he argues.
"The current electoral law is shaped around the idea of not making people decide other than those who live in their own country," he continues. "But on all sort of issues, from paying and upgrading pensions to major decisions like Brexit, what happens in the country can have a direct influence in your life even if you live abroad or you come from another place." 
He regards special constituencies for citizens abroad, such as those set up in Italy and France, as "a very sensible thing to do."
"People who live outside the country have specific issues that would just be diluted by regular constituency MPs," he continues.
Tobin adds that while his campaign focuses on getting the right to vote, the whole electoral system needs overhaul, switching to proportional representation. He believes this will bring more women and minorities in parliament, force parties into coalitions and oblige politicians to discuss more. 
"I also think there should be multi-member constituencies. If three people were to be elected in each constituency by single transferable vote, at least three quarters of people would have voted for someone who is elected. At present a successful candidate may garner as few as a third of the votes. It's just so demoralising to vote and then none of your candidates is elected," he says.
The example of New Zealand
Brought up in Manchester, William Tobin has lived abroad for a long time. One university vacation, he took a job as a garbage man in a Jewish holiday camp in New York. He fell for the USA and completed the studies in Wisconsin. He then returned to the UK for a post-doc at St. Andrews University in Scotland.
There, he met his wife, a French national. Together they moved to France and later to New Zealand, where Tobin taught physics and astronomy. He also naturalized in the country.
Now the couple lives in Vannes, Brittany, from where they plan the next campaign moves. 
Tobin cites New Zealand's voting system as an example. Permanent residents who have lived there for a year can vote. And in the 1990s, the country abandoned First Past The Post for a proportional system. "It felt so welcoming being able to vote from almost the start, and later empowering being able to vote under a system where my ballot counted even though I was in a 'safe seat' for a party I didn't support," he says.
"When everyone can vote it draws people to politics and builds an inclusive society. Under New Zealand's system, people feel much closer to politics, and politics is enriched by wider views," Tobin adds.
Zero votes a success
William Tobin will join 11 other candidates who, in a long British tradition, include representatives of major parties and independents who stand in the Prime Minister's constituency to bring to the public attention serious or bogus issues.
"I don't' want people to vote for me," repeats Tobin. "The issue at this election is far too crucial to disperse the votes. All I ask voters to do is to cherish their vote and cast it on December 12 thinking of us unrepresented 7 million and our future."
"I will count people not voting for me as supporters. In this campaign, zero votes will be an overwhelming victory," he smiles.
Claudia Delpero © all rights reserved.
Photo via Wikimedia Commons.
Europe Street News is an online magazine covering citizens' rights in Europe. Since August 2016 we have informed EU nationals in the UK and British residents elsewhere in the European Union about their changing status in the context of Brexit. We are fully independent and we are committed to providing factual, accurate and reliable information.
Our recent survey has shown that about two thirds of the people impacted by Brexit lack information about their rights and awareness is generally low for anything related to EU rights. We believe citizens' rights are at the core of democracy and information about these topics should be accessible to all. This is why our website and newsletter are available for free. Please consider making a contribution so we can continue and expand our coverage.