IN PICTURES: People march in London to demand Brexit vote
Almost 700,000 people marched in London on Saturday 20 October to call for a vote on Brexit. The rally was organised by the People's Vote, a campaign with cross-party support.
Aerial footage shows 'hundreds of thousands' of people attending protest in London calling for a referendum on the final #Brexit deal https://t.co/zWgMYVnpr2 pic.twitter.com/xRCb3fLt6R

— BBC News (UK) (@BBCNews) October 20, 2018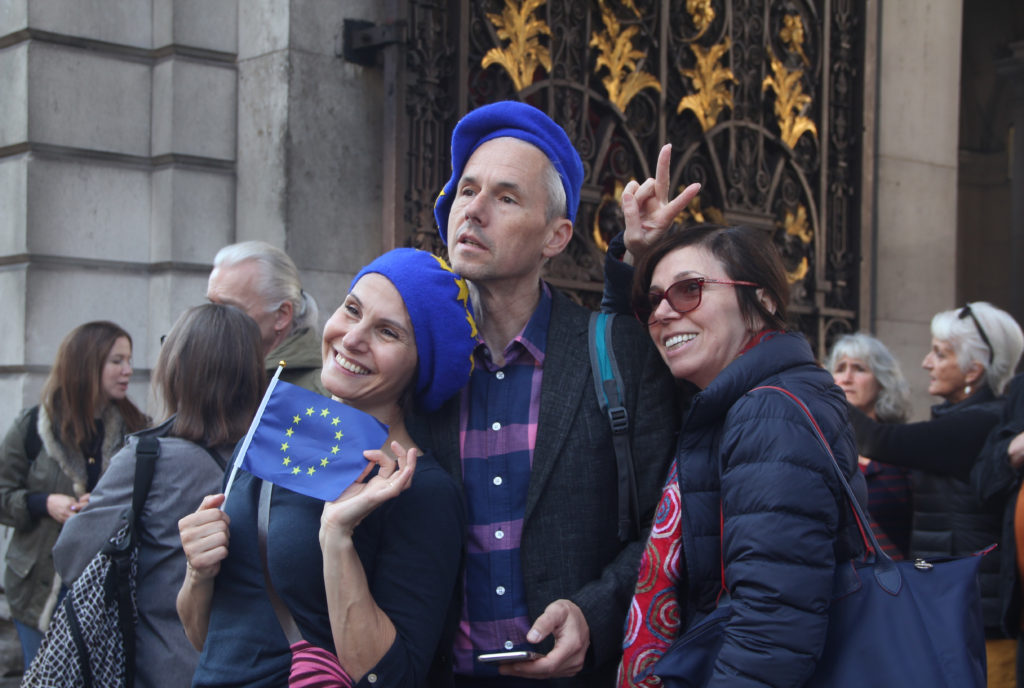 Among the hundreds of thousand who participated in the demonstration, activists of the3million and British in Europe, two groups representing EU nationals in the UK and British living in other EU countries, marched together under the banner of "the 5 million". This is the number of people who moved across borders that will be directly affected by Brexit. The 5 million were asking to be given a vote should there be a second referendum, an opportunity they were denied when the UK voted to leave the EU in 2016.
Together with @BritishInEurope, @InLimboBrexit, @FinalSayForAll we are marching at the #PeoplesVoteMarch.#The5Million EU27 citizens in UK & UK citizens in EU27 are the people too & we demand to #GiveUsAVote.
Meeting at Speaker's Corner opposite Marble Arch at 11am. Join us! pic.twitter.com/utdF8NFtH1

— the3million (@The3Million) October 20, 2018
Like many other people from across the UK, British citizens living elsewhere in Europe joined the march to make their voice heard. This is a representation of British in Germany.
We've travelled to London from all over Germany to be at #PeoplesVoteMarch and we're marching alongside friends from across Europe

RT if you support a #FinalSayForAll including #the5million: Brits living in the rest of Europe, as well as @The3Million in the UK#GiveUsAVote pic.twitter.com/GqUuVNybHG

— British in Germany (@BritsinGermany) October 20, 2018
And from Italy…
At #PeoplesVoteMarch @BritishInEurope & @BRITISHinITALY turning out in numbers to march fo a #FinalSayForAll on Brexit pic.twitter.com/JAyax0aCMv

— the3million (@The3Million) October 20, 2018
And Spain…
CATCH UP: Summary of some of Bremain's pics plus if you missed the speeches you can find them here on our website here! What a brilliant day! @BremaininSpain "Peoples' Vote London – Bremain Marches with the Masses" https://t.co/KJmPz8AIlR

— Susan Scarrott #FBPE (@SueScarrott) October 20, 2018
Also at the march were the organisers of the In Limbo project, a collection of personal testimonies of EU nationals in the UK and British in Europe on the impacts of Brexit.
@InLimboBrexit Elena @Elenauk representing the 5 millions #inlimbo at #peoplesevotemarch "Without a Vote but with a Voice"

We will not be silent.
We stand together.
Hear our voice pic.twitter.com/x9gjBj2CyG

— Alessandro Martinez (@AlessandroITAUK) October 20, 2018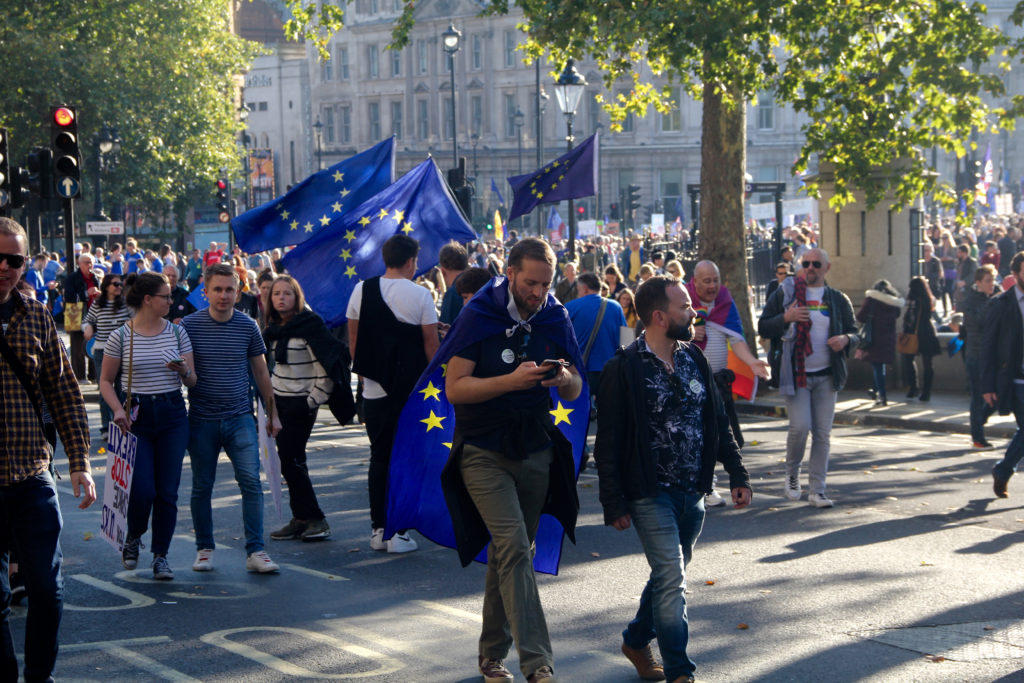 "I just want to say a little something today about all the European Union citizens who live and work in the United Kingdom and who didn't get a vote, to say that those of us here today still very much care about you and we want you to remain here and continue making the huge contribution you do," said SNP MP Joanna Cherry at the rally. She spoke in Parliament Square with Caroline Lucas (Greens), Chuka Umunna (Labour), Vince Cable (LibDem) and Anna Soubry (Conservative).
As the UK and the EU struggle to reach an agreement on the terms of the UK departure from the bloc, individuals and families continue facing uncertainty about their future.
Lots of moving moments on #PeoplesVoteMarch. People of all ages and backgrounds and from all over the country, so many young people, families with EU citizens whose lives have been turned upside down. I loved this one: "I was born of European love" pic.twitter.com/pG1nqwGUKd

— David Schneider (@davidschneider) October 20, 2018
This is what Guy Verhofstadt, Brexit coordinator at the European parliament, said about the rally.
Emotional to see so many people from all walks of life marching for a different future. Politicians might take Britain out of the EU, but it won't stop people feeling European. #PeoplesVoteMarch #IamEuropean https://t.co/zNy554NDin

— Guy Verhofstadt (@guyverhofstadt) October 20, 2018
And a comment from the German Minister for economic affairs.
People's vote marche is the most impressive and deeply moving support for Europe I've ever seen. Millions across Europe feel with you! Thx so much!!! Danke! Merci!

— Peter Altmaier (@peteraltmaier) October 20, 2018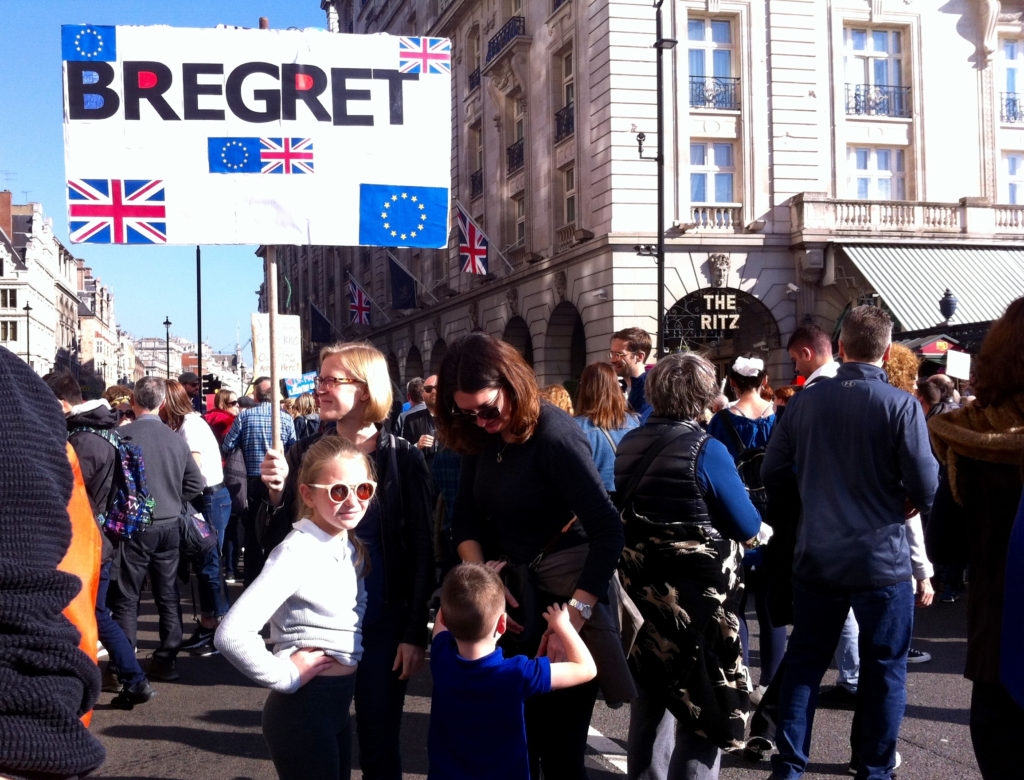 Claudia Delpero © all rights reserved.