No more IDs, duty-free shopping and other rules for UK travel from 2021
EU national identity cards will no longer be accepted as a valid travel document for the United Kingdom from October 1st 2021, the British government has said. Instead, citizens from the European Economic Area and Switzerland will be required to show a passport when entering the country.
The decision is part of a series of policy changes specified in a paper published by the Cabinet Office, which concerns also duty-free shopping and pet travel.
The paper explains how the government intends to manage the border with the European Union from January 1st 2021. On that date, free movement of people, goods, capital and services between the UK and the EU will end as a result of Brexit.
Passport, please!
As regards people crossing the border, the government will introduce a passport requirement for citizens from the European Economic Area (European Union plus Norway, Iceland and Liechtenstein) and Switzerland, but this will not take effect until October 2021.
The passport requirement "will not apply to those EU, EEA and Swiss nationals whose rights are protected by the withdrawal agreement," the government has said.
Individuals with settled status in the UK, or who are eligible for settled status, family members who have joined them, and frontier workers (people living in a country and working in another) can continue to use a national identity card "until at least 31 December 2025 and thereafter if the cards are compliant with International Civil Aviation Organisation standards," the paper states.
By 2025, the government plans to introduce an Electronic Travel Authorisation scheme that will require everyone to have permission in advance before travelling to the UK.
EEA and Swiss citizens can now travel to the UK using only their IDs, a popular and cheap travel document within the EU.
With some exceptions, identity documents are not required for EU citizens travelling within the border-free Schengen area. When otherwise requested, identity cards are accepted as valid travel documents in most EU countries, in the Balkans and, depending on the issuing country, in Turkey, Egypt, Tunisia and some overseas territories.
New rules for immigration and short trips
The policy change is part of the UK's post-Brexit immigration overhaul. Under new immigration rules currently being debated in parliament, from January 1st 2021 EEA and Swiss citizens (except for Irish nationals) will need a visa to work, study or join family members in the UK. They will also have to pay a surcharge to access the public healthcare system.
The government intends to exempt from the visa requirement EEA and Swiss citizens taking short trips to the UK for tourism, study or business. But they will need a passport nevertheless, the paper says.
EEA and Swiss travellers with biometric passports will also continue to have access to e-passport gates on arrival. However, "this will be kept under review," the document continues.
Duty free allowances
As part of the new rules, from January 1st 2021, anyone travelling between Great Britain and the European Union will be able to purchase goods free of duty and VAT (or potentially be refunded).
But while within the EU there are no limits on what travellers can carry for personal use, passengers between the EU and the UK will be allowed only a certain amount of duty-free items. If the allowance is exceeded, they will have to make a declaration and pay tax and duties.
These are the allowances for travellers to Great Britain: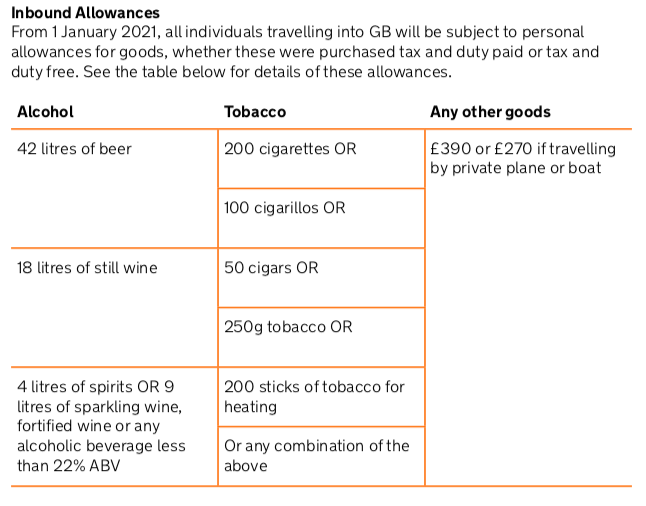 For travels to the EEA or Switzerland, each country determines its own allowances with minimum levels set EU-wide.
The amount of cash EU travellers will be able to bring to Great Britain without declaring it will also be limited to GBP 10,000 (EUR 10,000 for people travelling from Great Britain to the EU).
Passengers travelling from the European Union to Great Britain can continue to carry food containing meat and dairy until July 2021, when controls will be put in place, the paper adds.
Meat, milk and derivatives such as ham and cheese, with exceptions for infant food or special foods needed for medical reasons, cannot be carried from 'third countries' into the EU.
Travelling with pets
As of 1 January 2021, EU pet passports issued in the UK will no longer be valid in EU member states. The EU has to decide unilaterally rules on the "free movement of pets" applicable to the UK based on three possible country classifications that depend on the level of health risk.
The UK government has applied to be classified as 'Part 1 listed country', a category with similar requirements as now.
Rules for pets arriving in the UK "will remain the same in the immediate term," the British government has said.
Claudia Delpero © all rights reserved.
Photo by ConvertKit on Unsplash.
Europe Street News is an online magazine covering citizens' rights in Europe. We are fully independent and we are committed to providing factual, accurate and reliable information. We believe citizens' rights are at the core of democracy and information about these topics should be accessible to all. This is why our website and newsletter are available for free. Please consider making a contribution so we can continue and expand our coverage.