EU citizens not engaging enough in UK local politics, campaigners warn
They have maintained the right to vote in local elections in spite of Brexit, but many EU citizens are not using this tool to participate in UK's political life, a new study says.
The report published by the3million, a group defending the rights of EU nationals in the UK, analyses their participation comparing data on population, voter registrations, settled status applications and local election results.
Several disparities emerge between the proportion of EU citizens living in a city and the number of registered voters. Corby in Northamptonshire, East Midlands, has proportionally the largest number of EU residents, estimated at 29.2% of the total population. But those registered to vote account for only 14.2%.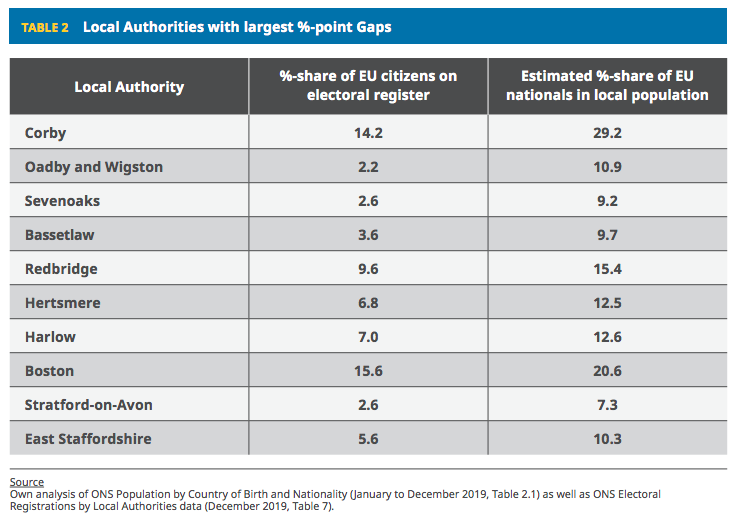 Less engaged than other groups
A 2016 report by the Electoral Commission found that only 53% of EU citizens registered to vote compared to 63% of Commonwealth citizens and 86% of Brits and Irish (however, the other groups also vote in general elections). In England, EU citizens represent 5.8% of the population but only 4.9% of registrations in the electoral roll, the3million says.
The participation gap appears to be more pronounced in local authorities outside London, according to the study.
Even in the capital, a report on 2019 London's Voter Registration week has shown that many EU citizens were not aware they could vote and stand as candidates. Young Europeans in London were especially unlikely to register and when they did, they mostly did not vote, another research by the3million has found.
Minority communities are underrepresented in UK's local councils, but there are no specific data on councillors (or candidate councillors) of European background, the report adds.
"EU citizens make up over 5% of the UK's population, but we rarely hear their voices in UK political debates," the3million says.
Alexandra Bulat, Young Europeans Manager at the organisation and co-author of the report, commented: "EU citizens generally feel unrepresented or underrepresented in UK politics. In the interest of a healthy and inclusive democracy, it is time politicians and campaigners took the issue of EU citizens' participation seriously and worked together to increase participation of this group."
"There is not enough research on political parties and EU citizen evaluations of the main political parties. I think both Labour and Conservative parties have done a lot of damage and have alienated a lot of EU citizens in different ways," lamented Dr Neema Begum, Research Associate at the University of Manchester, during the online launch of the report.
A common EU problem
The low participation in local elections of EU citizens living in other EU countries is a problem throughout the European Union.
Today, 14 million EU citizens use the freedom of movement to live, work or study in another EU country. As EU citizens, they have the right to vote in local and European elections in the country where they live. But only about a third use such rights, according to estimates by European Citizen Action Service (ECAS).
A recent European Parliament study says that obstacles to EU citizens' participation include the requirement, in some EU member states, to register as a voter separately grom registering as a resident or citizen.
Other hurdles include the lack of information in certain languages, "a lack of understanding of the political system and language of the country, as well as a lack of identification with political parties in the host country".
How to increase participation
The right to vote is fundamental in a democracy. It is about participation in the life of the country by freely making choices, expressing opinions and holding government to account.
To increase participation of EU citizens in the UK, the3million recommends that activists "popularise" democratic rights, especially in areas where the gap is greatest. They also call for better data collection about EU voters.
In addition, the3million calls on the UK government to provide clarifications on the democratic rights of EU citizens after 2021. As a result of Brexit, EU citizens in the UK could lose the right to vote and stand as candidates in local elections. But the British government has so far said it intends to continue the current practice negotiating bilateral agreements with EU states. Bilateral deals have so far been signed with Spain, Portugal, Luxembourg and Poland.
The European Parliament report also recommends to take away as many practical obstacles as possible adopting accessible procedures and providing information in multiple languages.
A group of Erasmus students has recently launched the European Citizens' Initiative "Voters Without Borders". They aim to collect signatures and call on the EU to grant voting rights to people moving across the EU borders also in regional and national elections, as this is believed to improve participation in general.
Aure Isouard
Europe Street News © all rights reserved.
Photo by Étienne Godiard on Unsplash.
Europe Street News is an online magazine covering citizens' rights in Europe. We are fully independent and we are committed to providing factual, accurate and reliable information. We believe citizens' rights are at the core of democracy and information about these topics should be accessible to all. This is why our website and newsletter are available for free. Please consider making a contribution (PayPal link) so we can continue and expand our coverage.