European Parliament elections set for 6-9 June 2024
It's decided. The European Parliament elections will take place between 6 and 9 June 2024. Why are they relevant and how to be involved? Here are all the information you need to prepare.
What is the vote about?
In these elections, EU citizens vote on who will represent them in the European Parliament. The election takes place every five years. All EU citizens have the right to vote and stand as candidates for a parliamentary seat.
Why does this matter?
The European Parliament is the only institution of the European Union directly elected by EU citizens. The parliament is responsible for passing laws that affect everyday life, for example on consumer protection, environmental standards, and residence or healthcare rights when moving around EU countries. On all these topics, and many more, the European Parliament co-decides together with the EU Council, which represents national governments. It is also possible to petition the parliament about issues of concern.
How many members are elected?
Currently, there are 705 Members of the European Parliament (MEPs) distributed by the population size of the 27 member states (infographic below by the European Parliament).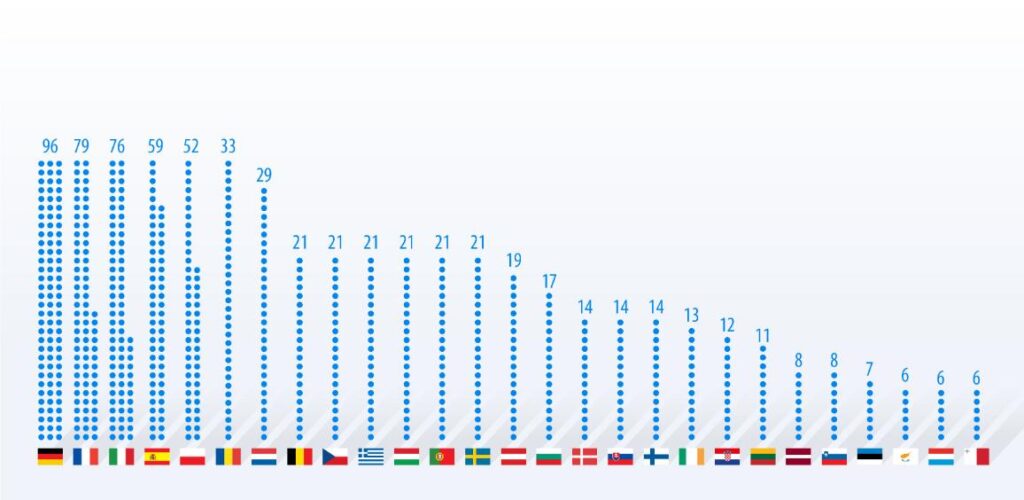 Last year the parliament called for the establishment of an EU-wide constituency to elect 28 additional MEPs from transnational lists. The intention was to transform EU elections "into a single European election, […] as opposed to 27 separate national elections, which is the way that European elections are organised today". But national governments would have to agree to this proposal and it is unlikely they will do so in the short term.
How to vote?
Each country has its own electoral system, so to know how to vote people need to check their government websites and follow national or regional rules. EU citizens who live in another EU member state can vote for candidates standing in their home country or in the host country, but they can vote only once so they have to choose.
What about EU citizens outside the EU?
EU citizens who live outside the EU, including in the UK, have in principle the right to vote and stand as candidates in the European Parliament elections. However, some countries do not allow voting from abroad or allow it only to citizens living in another EU member state. In the past, EU citizens in the UK could vote for UK candidates but this is no longer possible after Brexit, so they will have to vote according to the rules of their country of origin.
Europe Street News © all rights reserved
Image: European Union 2023 – Source : EP
Europe Street News is a news service on the European Union and citizens' rights. We are fully independent and we are committed to providing factual, accurate and reliable information. As citizens' rights are at the core of democracy, our website and newsletter are free to read, so we welcome contributions to support our work. Thank you!