Dutch citizens abroad launch new appeal for dual nationality
Dutch citizens abroad have renewed their call for a revision of the law to be allowed dual nationality. The appeal was launched with a full-page advert on Saturday's edition of NRC Handelsblad, a large distribution newspaper in the Netherlands.
The advert is an initiative of the Foundation for the Dutch Abroad (SNBN), an independent group that already organised a petition on dual citizenship in 2017.
In 2018, the current coalition government had announced consultations on the possible expansion of citizenship rights for 'first generation' immigrants and emigrants.
But to date, only an exception for Dutch nationals living in the UK has been granted, should their rights "deteriorate" in the future as a result of Brexit.
With the advert published on Saturday, the SNBN is asking again Prime Minister Mark Rutte and "fellow politicians" to help Dutch citizens to "remain Dutch" by removing the dual citizenship ban.
The group also asks to return the Dutch citizenship to those who have involuntarily lost it. 
The advert was crowdfunded among Dutch people living across the globe.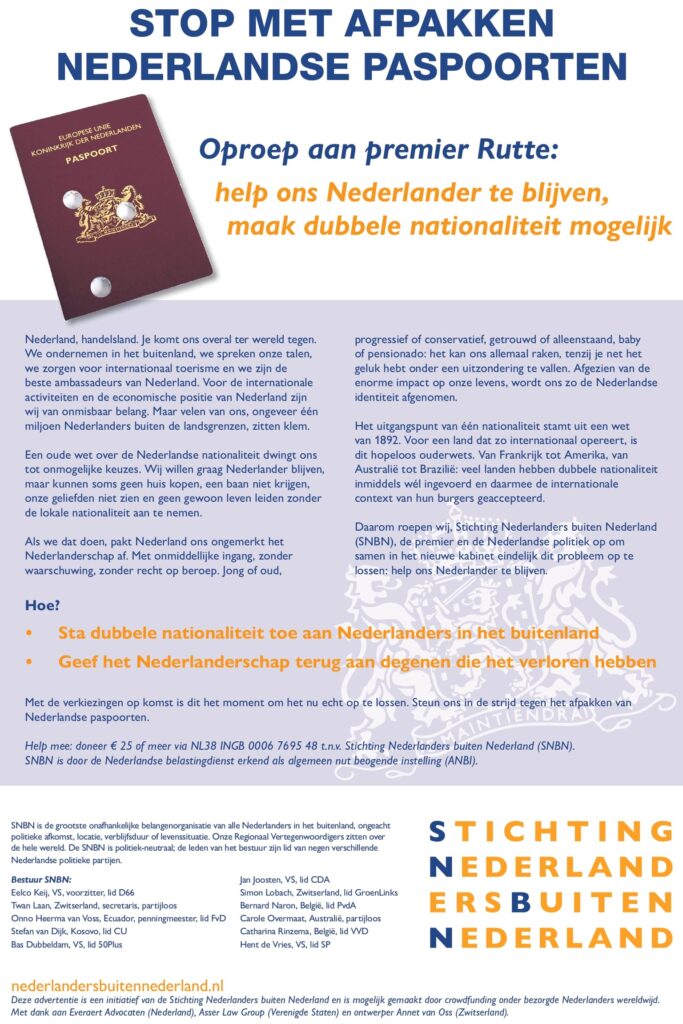 Dual citizenship in the Netherlands is permitted only under specific conditions, for example if someone has a foreign spouse. In most cases, if a person obtains another nationality, he or she automatically loses the Dutch one.
"Dutch people abroad are being taken hostage by an old Dutch law. Whereas many other countries already have been allowing dual nationality for a while now, the Netherlands stubbornly holds on to the principle of one nationality," SNBN chair Eelco Keij said.
Keij, who lives in New York, argues that not being able to acquire another citizenship while living permanently in another country, especially outside the European Union, can be an obstacle "when trying to buy a house or to find a job".
"As a community, the Dutch abroad constitute added economic value in the form of international trade and tourism for the Netherlands. Why cut those ties?" he said.
Mr Keij told Europe Street that the publication of the advert is the first step in a campaign that aims to place the issue on the agenda of the general elections of March 2021.
Several European countries have restrictive rules on dual citizenship. Spain, for instance, allows it only with Ibero-American countries, and Germany with other European Union member states.
A group of Austrians abroad has recently launched an initiative to request to change the law in their home country, which has one of the strictest dual citizenship bans.
According to Martin Wallner, founder of the group "Doppelstaatsbürgerschaft für Österreich" (Dual Citizenship for Austria), 82% of countries in the world permit multiple citizenships today, while in the 1960s the proportion was only 40%.
Claudia Delpero © all rights reserved.
Photo by Victor He on Unsplash.
Europe Street News is an online magazine covering citizens' rights in Europe. We are fully independent and we are committed to provide factual, accurate and reliable information. We believe citizens' rights are at the core of democracy and information about these topics should be accessible to all. This is why our website and newsletter are available for free. Please consider making a contribution so we can continue and expand our coverage.